Which Athlete Will Be On The Cover Athlete Of NBA 2K20 Legend Edition?
Date: 2019-05-31 08:01:26
---
NBA 2K20 Leak: Release Date is Sept 6 & Dwyane Wade Cover Athlete of NBA 2K20 Legend Edition
What changes and additions is NBA 2K20 going to bring?
Will we be seeing any new historic teams?
Is there any truth to the rumour of WNBA teams being added to the game for the first time ever?
What about MyCareer and its new story?

And of course, the ever exciting question: what athlete will have the honour to grace the game's cover this time around?
Wade will likely be one of the featured athletes in the next iteration of the NBA 2K series. A certain Jimmy Bucket Hive posted a photo on Twitter, showing Wade in a promotional material for NBA 2K20. The photo also revealed that the new video game will come out on September 6. Keep in mind that this specific date could only be valid for those who pre-order the Legend Edition of the game, as one of the pre-order perks will most likely be early access, as was the case with NBA 2K19.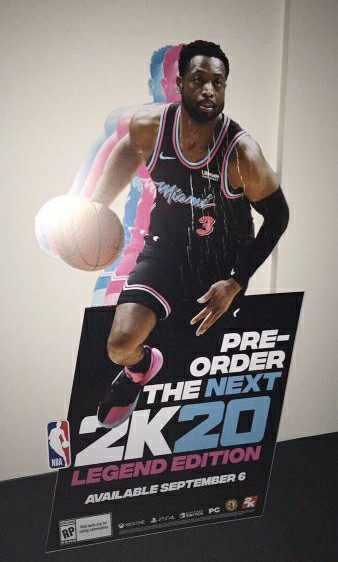 Based on how it looked, Wade will be the cover athlete of the Legend Edition of the game. In previous iterations, the legend edition offers more freebies to gamers like free in-game currencies, posters, and some other collectibles. The Legend Edition is usually priced higher than the regular edition of the game.
Note that this has been unconfirmed by 2K Sports as of yet. Of course, even though the image looks as legitimate as can be, and the reasoning behind 2K's apparent choice makes perfect sense in more ways than one - we still suggest you take this leak with a grain of salt as nothing has been officially confirmed as of yet. Basketball gaming fans have been waiting with baited breath for any sort of news on the upcoming NBA 2K20, but 2K Sports have been notoriously quiet about their newest iteration of the game. Although the last two NBA 2K Legend Edition cover athletes were announced between May and June, so this wouldn't be out of the ordinary.
With no trailers or teasers to spark any sort of hype for the new basketball sensation, fans have been busy playing the guessing game, as it is quite normal for this time of the year.
If you are going to buy NBA 2K20, please bookmark our website first. Our NBA 2K20 MT and NBA 2K20 VC will be launched simultaneously with the game, so you can buy cheap NBA 2K20 related services in the first time.
---
---