Fallout 76 Patch 11 Will Make It Easier For New Players To Survive The Wasteland
Date: 2019-07-17 06:08:13
---
The new Fallout 76 update has been released on PS4, Xbox One and PC, with full patch notes available to view at the bottom of this article.
Today's July 16 patch brings a bunch of new content, and as you can see from the size of this page, it's a big update.
It's a massive patch, including a number of changes to some of Fallout 76's core gameplay and features. This includes levelling changes for new players, tweaks to Nuclear Winter and changes to how food spoils.
"Lots of new Dwellers have been leaving Fallout 76 for the first time over the past few weeks and, in Patch 11, we're looking to make a few adjustments to help new and low-level characters have more gradual introductions to some of the game's mechanics and challenges."
As usual, bethesda has been busy cleaning up the myriad bugs that have plagued the game since its release. Some of these fixes include behind-the-scenes improvements to the power armor system, changes to specific functions, and new descriptions or interpretations of items.
Bethesda said that the full notes for Patch 11 will include more details on the plan to make life easier for new Fallout 76 players.
Bethesda said that the number of caps that characters under level 25 will have to pay for fast traveling will be reduced, and characters under level 15 will have a higher resistance to disease, as examples of how new players will be supported.
The developer added that it would replace some of the challenge rewards in earlier games with items and other items to give new players a better chance of survival. The difficulty for creatures in some sub-regions in the Ash Heap, the Savage Divide, and Toxic Valley will also be reduced, so that new players who are stepping out of the Forest for the first time will encounter high-level enemies at a lower rate.
The patch also includes adjustments to food and spoilage, improved item descriptions, power armor improvements, bulk junk auto scrapping, and the return of punch bowls. In addition, it will address several bugs that involve C.A.M.P. building errors, Pioneer Scout Challenges, looping gunshot sound effects, and UI issues, among others that were reported by players.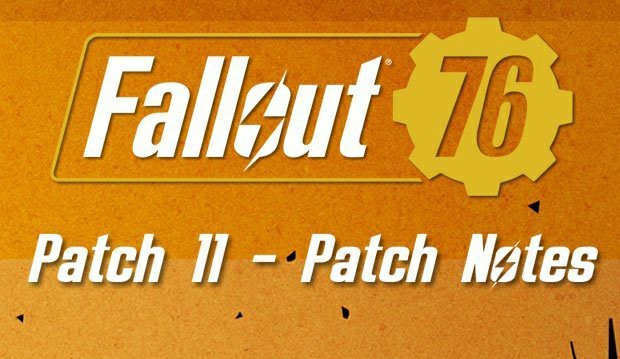 Patch Highlights
Power Armor Improvements: We've made behind-the-scenes improvements to the Power Armor system to help address lots of bugs. As a result, you may notice your Power Armor pieces have moved into your inventory or Stash.
Item descriptions get a makeover: The descriptions for Legendary items, item mods, and crafting recipes now display all of their current attributes when viewing these items in menus.
Nuclear Winter balance changes: As mentioned a few weeks ago, Patch 11 addresses some of the concerns we saw being reported in regard to certain Perks, like Frog Legs.
Better experiences for new players: We've made several changes to help new players ease into the challenges of the Wasteland during the early hours of the game. These adjustments should make stepping out of Vault 76 a breath of fresh air.
Delicious libations: Patch 11 marks the return of the Punch Bowl. PARTY AT YOUR C.A.M.P.!
For more details on the patch 11, please visit the official website.
Power Armour has also seen some notable tweaks, with Bethesda revealing: "We've reworked the underlying systems behind Power Armor to address a ton of Power Armor related bugs, improve performance, and help the entire system function more smoothly overall. While most of these are 'under the hood' improvements, we believe these changes will help you have better experiences, and encounter fewer issues, while wearing your favourite set of Power Armor."
ORIGINAL: The next major Fallout 76 update is being released this week, Bethesda has confirmed.
---
---