Grand Theft Auto Online Is About To Get A Casinos
Date: 2019-06-17 15:43:35
---
The feature is likely to be welcomed by fans who have been hoping the multiplayer version will support the game's long-standing casino. Rockstar gave very few details on how exactly the casino would work, how it might fit into the rest of the game or what it might look like. But it's announcement was unambiguous that it is likely to arrive in the coming weeks, with Rockstar regularly releasing new features into Grand Theft Auto Online.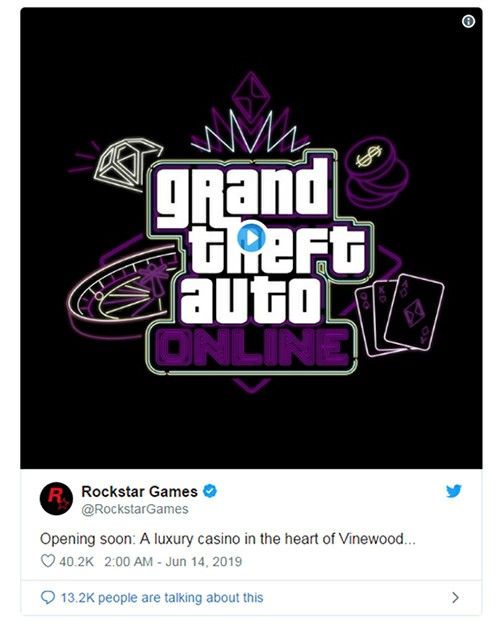 While casinos will almost certainly become another business for players -- along with nightclubs and car dealerships already offered -- it seems likely that players will also gamble and play inside casinos.
What kind of mischievous activity the casino will allow GTA players to do remains to be seen. But it will almost certainly draw the attention of regulators, too, who have recently taken an interest in the kinds of gambling that games could be making possible. Since those items can then be sold on for real money, some politicians have argued that the feature is a disguised form of gambling. Several countries have suggested they could ban loot boxes, for instance, arguing that the feature allows children to gamble.
Nevertheless, Grand Theft Auto V's casino is indeed opening and probably soon. The release date is expected to be late June or early July.
---
---