GTA Online's Diamond Resort & Casino Opens Its Doors Next Week
Date: 2019-07-19 01:32:02
---
Rockstar is set to open the doors of the GTA Online Casino next week. After years of inactivity, Los Santos' Diamond Casino and Resort will open on July 23.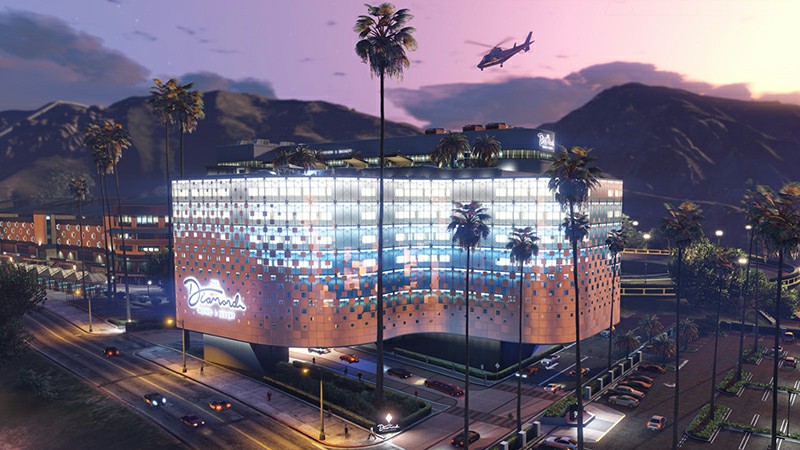 Experience Excellence. The Diamond Casino & Resort opens for your enjoyment in the heart of Los Santos this Tuesday, July 23rd. According to Rockstar, "The massive construction project on the corner of Vinewood Park Drive and Mirror Park Boulevard is nearing completion, radically changing the skyline of Los Santos forever. When the brand-new Diamond Casino & Resort opens its doors, one and all are welcome inside to play, or just to stay in the most luxurious residence in the entire state."
Below, the update trailer:
In a new trailer, released earlier today, Rockstar lifted the lid on the long-awaited new arrival. The video introduces casino owner Mr Cheng and the Texan businessmen trying to buy out the new resort, as well as showing off slot machines, roulette wheels, Three Card Poker, Blackjack, and Roulette. Slot Machines and virtual horse racing, dubbed Inside Track, will also be available.
"Spin the Lucky Wheel in the lobby for chips, cash, and clothing or even the new Truffade Thrax supercar that can be found whirling on the podium during opening week." You'll be able to win clothes, chips, cash, and even the new Truffade Thrax supercar by spinning the Lucky Wheel in the lobby. "And be sure to check back each week to see what new high-end vehicle can be won,"Rockstar said.
As with other GTA Online expansions, players will have to buy in with in-game money to access its new story missions and high-stakes tables. Along with games, you'll also be able to purchase a new property, "The Master Penthouse that sits beside the Roof Terrace with infinity pool and stunning views entitles the owner to VIP Membership status including access to VIP Lounges, High-Limit tables, plus a range of special services via the Penthouse phone including aircraft and limousine services and more."
The Penthouse grants a new set of co-op missions, where you'll work with casino owner Tao Cheng to keep the place safe from rich, threatening Texans. By buying a Master Penthouse at the casino, players can start a new story about how to protect the casino. Complete the new storyline, and you can earn a new vehicle at no cost. You'll be able to renovate your penthouse using several upgrade plans, including a spa, stylist, and bar and party area.
The casino even has an official website, which mentions two tiers of membership: standard and VIP, the latter of which unlocks when you purchase a penthouse there. Visit thediamondcasinoandresort.com for more details
Players who link their Social Club accounts with Twitch Prime and claim their benefits before end of day tomorrow can get the property at no cost, as well as GTA$1.25 and a 15-percent discount on Shark cards. Act fast though, as this is a limited time offer which ends on July 19.
---
---