Master 6 Unique Weapon Types of Rangers of Oblivion
Date: 2019-10-17 10:29:49
---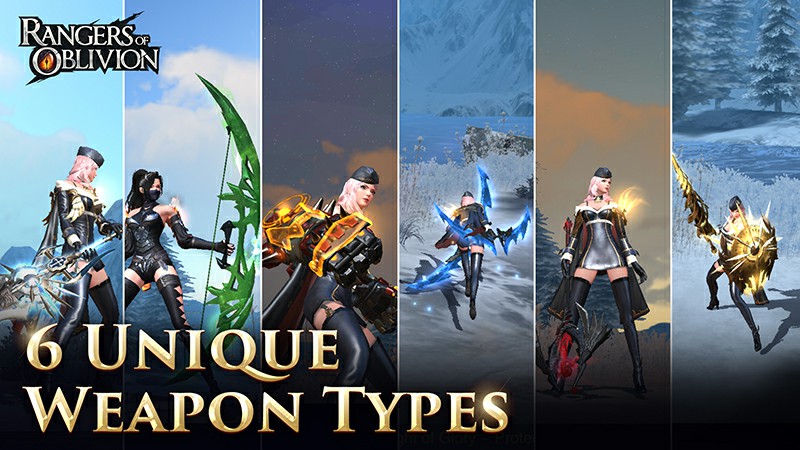 Master 6 unique weapon types of Rangers of Oblivion: Greatsword, Lance, Longbow, Twin Blades, Staff, and Armored Gauntlets. Each offers a different combat style with different skill sets and attributes to aid you in slaying even the toughest monsters.
Greatsword
A Greatsword is a weapon that holds immense destructive power. Its wide and heavy blade is as tall as a man, and the strength of the Greatsword lies not in its attack speed, but overwhelming power. Rangers who wish to wield it must learn to patiently watch each behemoth's movement and behavior for the precise moment to strike with a charged up attack. Supported by Wild Soul abilities, the Greatsword can deal massive damage to behemoths, enough to even sever entire limbs with a single blow.
Due to its fearsome capabilities, the Greatsword is one of the most favored weapons among the Rangers. It has the power to deliver the pivotal blow against behemoths, and so their role is extremely important. Siegfried, the first Grand Master of the Rangers, was a master of the Greatsword. First Ranger Balen, an outstanding Ranger, also excels at brandishing the Greatsword.
Lance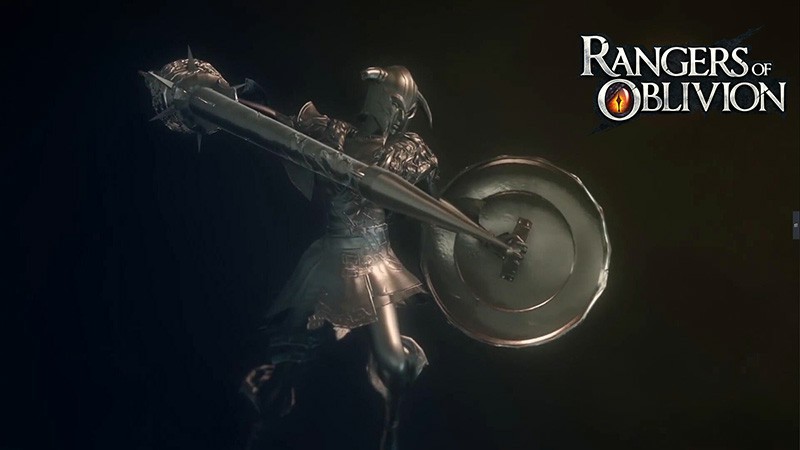 The Lance is a weapon possessing both defensive and offensive capabilities. Gripped in their right hand, Rangers often pair it with a sturdy shield in their left; a combination that embodies the unique battle style it offers. Rangers wielding the Lance play the role of defenders on the battlefield, raising their shields to ward off lethal behemoth strikes toward themselves and their allies. However, this is not to suggest it lacks offense. By casting the Lance forward and charging into battle, Rangers are able to launch attacks with a momentum unstoppable even by behemoths.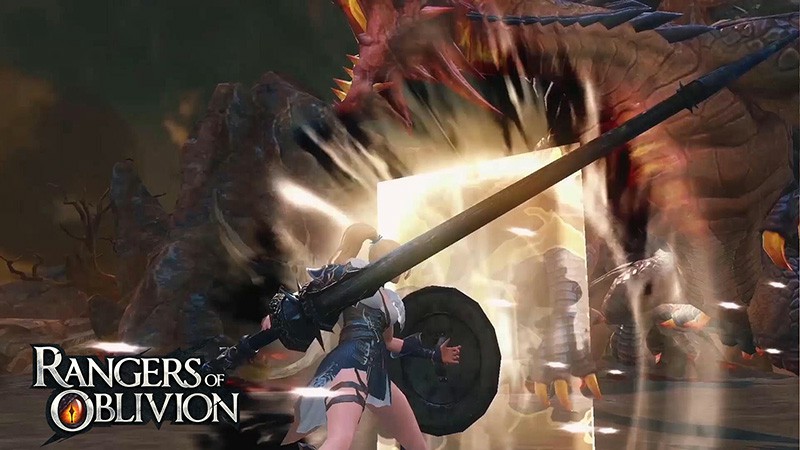 With the right Wild Soul skills, Lancers can dominate a behemoth's attention, giving allies the room to maneuver and the chance to deal damage. In light of this, the Lance is a favorite among highly-devoted Rangers, for as the Ranger Edgard once said: "A shield protects its loved ones, while a blade welcomes the enemy". Having a Lance on your side brings you one step closer to victory on the battlefield.
Longbow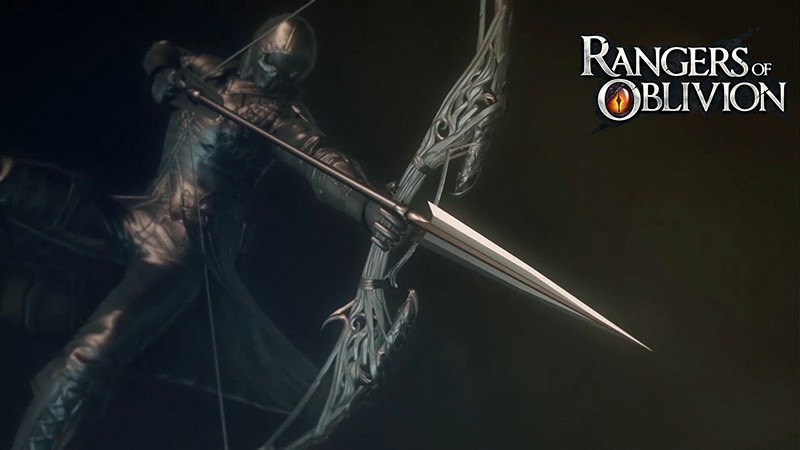 One of mankind's oldest weapons, the bow is often used to hunt for elusive or dangerous prey. However, since normal arrows are ineffective against behemoths, the arrows used by Rangers are longer, heavier and much larger than average, requiring a sizeable Longbow to match. When fired, a fully-drawn Longbow arrow is able to pierce a behemoth's thick hide and deal damage to its limbs. Although damage dealt is lesser in comparison to that of close-range weaponry, the Longbow's true merit lies in its ability to inflict a steady stream of damage upon behemoth limbs. Furthermore, its excellent attack range enables it to deal damage to certain parts that would be a challenge for close-range weaponry.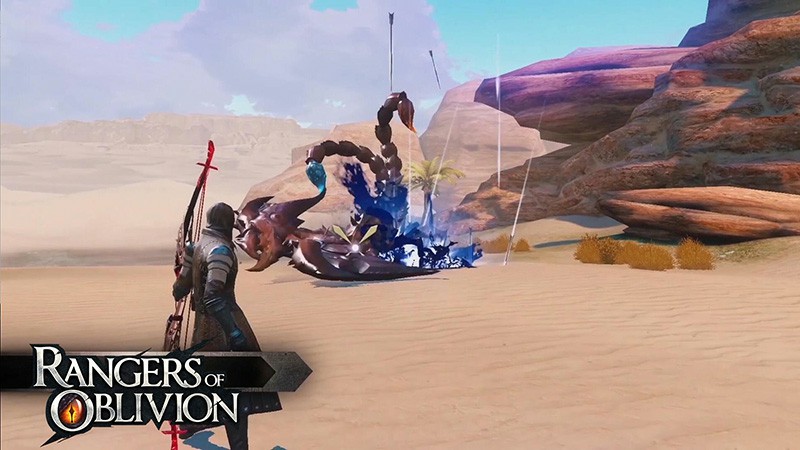 As a long-range class, Rangers wielding the Longbow equip armor different from their close-range counterparts. Their light protective gear allows for greater mobility at the cost of weaker defensive attributes. Thus, Longbow archers must stay vigilant of a behemoth's distance and movements during battle, as close combat is extremely dangerous for them. Like the graceful Ranger warrior Diana, top Longbow archers possess a sharp and intuitive feel for combat, raining down a steady yet deadly hail of arrows from a distance.
Twin Blades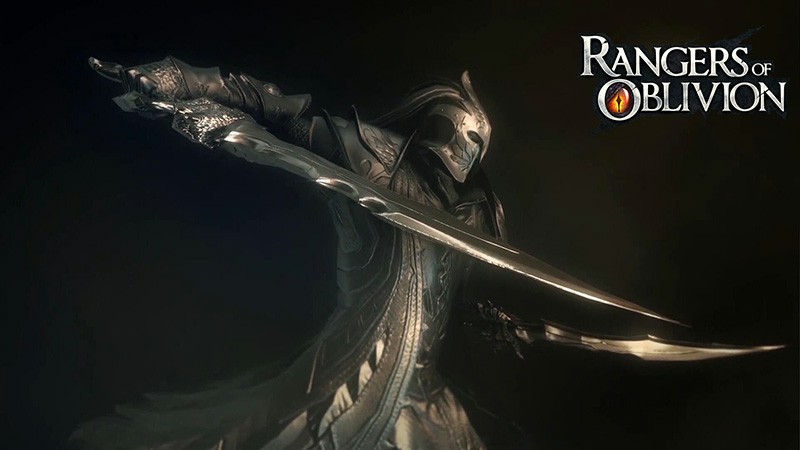 If the Greatsword is the battlefield juggernaut, then the Twin Blades would be its fleet-footed mercenary. Twin Blades are composed of two one-handed blades, measuring at a little over one meter each and lightweight in construction, capable of inflicting rapid strikes. They cannot deal fatal damage through a single strike alone, yet their attacks can inflict laceration wounds upon behemoths. Rangers may harness ether within their swords, focusing and affixing it to the wounds inflicted with each slash of their blades. This makes it harder for behemoths to regenerate, as well as allowing for their wounds to burst at a moment's notice, causing huge damage and sealing the behemoth's fate.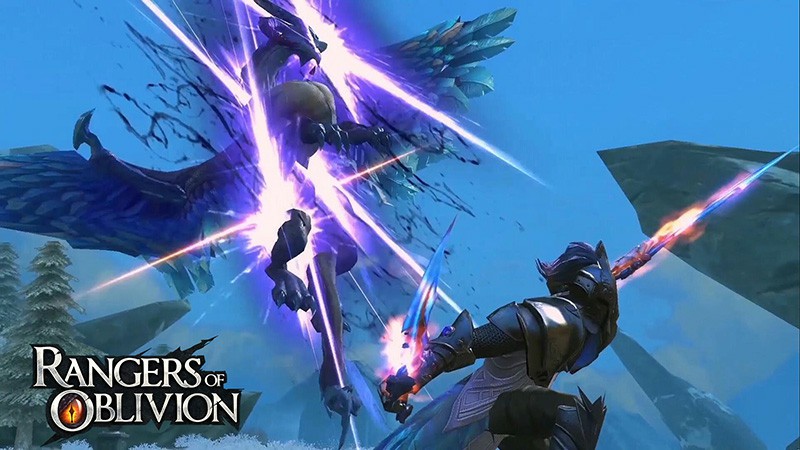 When wielding Twin Blades in battle, one should always be on the move; a speedy offense is best for laying into the opponent. This corresponds with the Twin Blades' combat style, characterized by rapid assaults and leaps into the air. Owing to their myriad battle styles, wielders of Twin Blades are affectionately referred to as Blade Dancers amongst the Rangers. The most prominent example of such a Ranger is Nadia. Entering onto the battlefield, the reticent warrior resembles a dancer taking to the stage; her fluid swordplay both beautiful and deadly.
Staff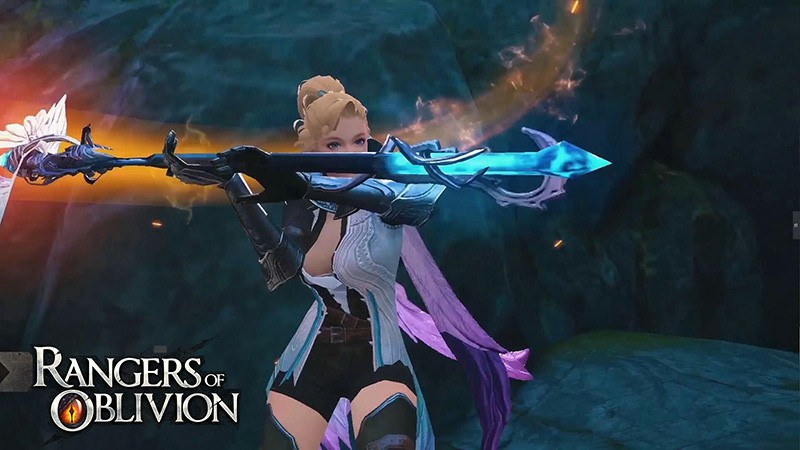 While belonging to the long-range class like the Longbow, the Staff releases neither arrows nor ammunition but blasts of magic energy, formed through harnessing ether. It is perhaps better to consider the Staffs wielded by Rangers as tools for diverting energy rather than as weapons. Following the establishment of the Rangers, this kind of weaponry was developed by various researchers within the inner ranks. The Staff embodies their achievements and understanding of ether. Pairing Staves with Skill Runes can alter skills' Elemental Stats, which allows for greater flexibility in engaging behemoths of varying types in battle. It can also deal damage at a remarkably long range, casting forth deadly beams of light and blasts of magical power to turn enemies into dust.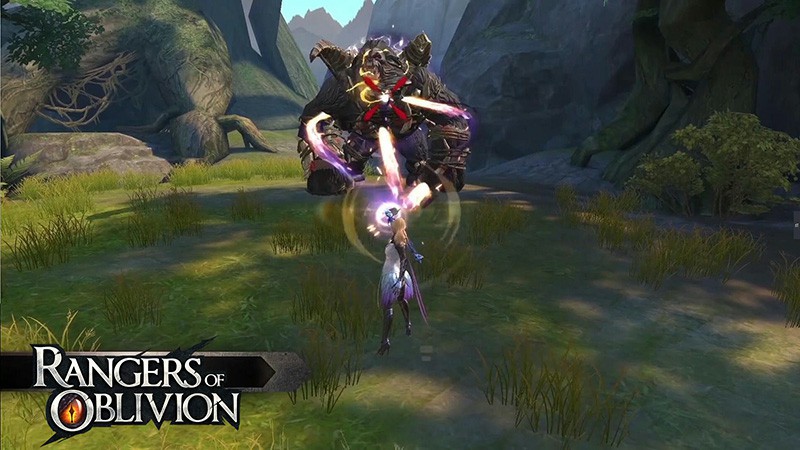 Staff-wielding Rangers are wise without exception and especially perceptive. Like the Ranger Edith, superior Staff users put their wisdom to use in selecting Weapon Runes to better fit the conditions of each battle. With this, victory over a greater number of behemoth variants can be achieved.
Armored Gauntlets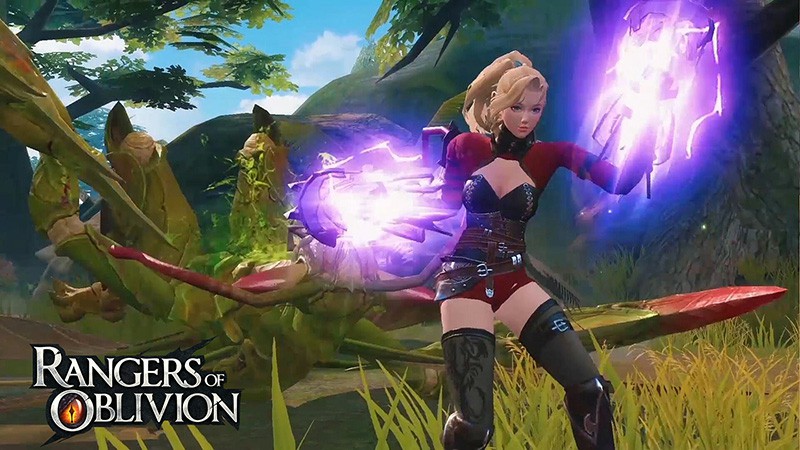 Legend has it that Armored Gauntlets were first used during the inception of the Rangers after being introduced by an unnamed Ranger from the east. The validity of such a legend is difficult to prove, as it is a tale buried in the sands of time. However, the Armored Gauntlets do indeed possess special qualities that set them apart from other weapons, gaining a reputable Ranger following. First impressions of the weapon are often that, like the Twin Blades, victory is attained through superior attack speed. But whereas wielders of Twin Blades constantly attack on the move, wielders of Armored Gauntlets shine when dealing explosive damage upon a set point. Rangers wielding Armored Gauntlets can dash towards a behemoth to rain down a flurry of fierce blows upon its limbs and ultimately knocking it down. The battle skills brought into play include an improved dodging ability, a key part of staying alive in order to maintain your assault on a behemoth.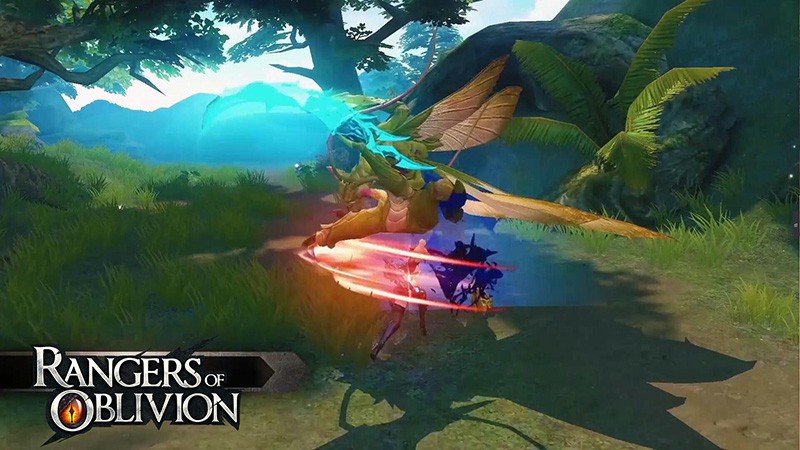 Engaging in battle using Armored Gauntlets endows the wielder with a violent joy; a hearty combat style best accompanied by a strong liquor if one is to fully enjoy the thrill of the fight, according to Ranger Cedric. This view has found many supporters amongst the Ranger battalion.
---
---