Google Stadia: Full List of Games including Assassin's Creed Odyssey
Date: 2019-08-22 09:33:56
---
Google Stadia is dedicated to letting users play 3A (and some more casual games) in Chrome on Android, Chromecast TV, and even desktop or laptop. During today's Stadia Connect event, the giant finally announced a list of the starting games, including the ones that were announced weeks and months ago.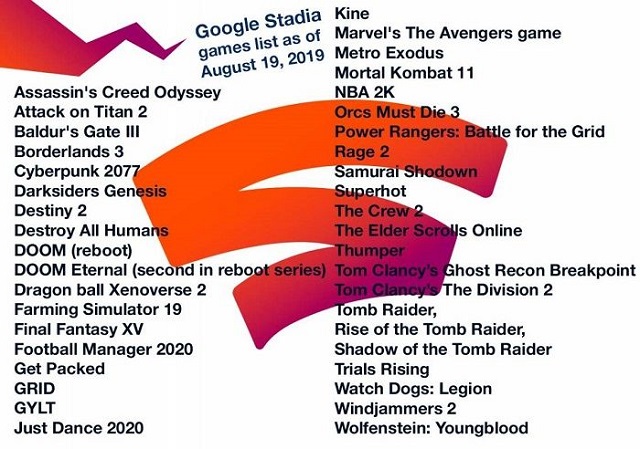 Stadia is a cloud-based platform that will allow players to stream and play different games wherever they are. Instead of playing on a console, all you need is an internet connection and a compatible device, such as a Google Pixel 3 or AAA smartphone, a Chromecast and a smart TV, or a PC in the Google Chrome browser.
Despite Google's clout in the tech world, Stadia has a considerable amount of ground to make up in order to compete with long-established gaming powers such as Nintendo, Sony and Microsoft. Even Stadia's major draw — gaming on the go on any device — isn't wholly unique, as Microsoft is also launching its Project xCloud service a month earlier in October.
The games include some top names, like Cyberpunk 2077, Final Fantasy XV, Assassin's Creed Odyssey and Mortal Kombat 11. It also enlists a number of top publishers, including Bethesda, Square and Ubisoft. A number of key publishing partners have opted to keep their lists under wraps until closer to (or at) launch, however, including EA, Capcom and Rockstar.
There's also Rockstar Games, who didn't announce a game but confirmed they would be releasing games for the machine. The question is which recent Rockstar title is most likely to get Stadia support – Grand Theft Auto 6 or Red Dead Redemption 2. It's also unclear if one of these will arrive for launch – only time will tell.
The Founder's Edition of Stadia, which includes a controller, a Chromecast and three months on the service, will be available this November for $129 (£107), with the free Base version coming at some point early next year. To get the Pro service you'll have to subscribe for $10 (£8.28) a month.
This is the very beginning of a new service from Google. Is this the greatest lineup? The jury is still out on that, but it's a start. Some great new games are included in this lineup, like Baldur's Gate 3, Cyperpunk 2077, and Ghost Recon: Breakpoint, which all look fantastic. I'm excited by what Stadia represent in terms of the future of gaming. It's a new way for people to play, so that should at least be interesting to watch.
The Google Stadia service is expected to be officially launched in November 2019, but it's important to note that not all games can support streaming immediately.
---
---