Best Tips to get Fortnite XP and Level up Fast
Date: 2019-05-18 08:46:23
---
Fortnite XP is a type of progression in Fortnite. Season's Battle Pass, Staying alive and completing the Daily Challenges are three simple ways to get XP. Please follow us with the following article.
To level up fast in Fortnite you'll need to earn XP and Battle Stars, two separate but linked currencies you earn as you play. In Fortnite the XP you earn will boost your Season Level, and you'll get that just get by playing. Your Battle Pass tier on the other hand is all about the Battle Stars, which can be earned in part from XP but mainly by completing Battle Pass and Daily Challenges.
If you are serious about gaining XP, then buy the current season's Battle Pass as soon as it is available. You instantly gain XP multipliers for playing alone or with friends, increasing your gains for any matches you play. The more you level it up, the higher the multiplier goes. If you get to Tier 96, you'll earn an additional 120% personal XP boost, and another 120% for a friend XP boost, making it the most effective way to get XP in Fortnite. Here's what Battle Pass Tiers you need to hit to increase those multipliers in Season 5: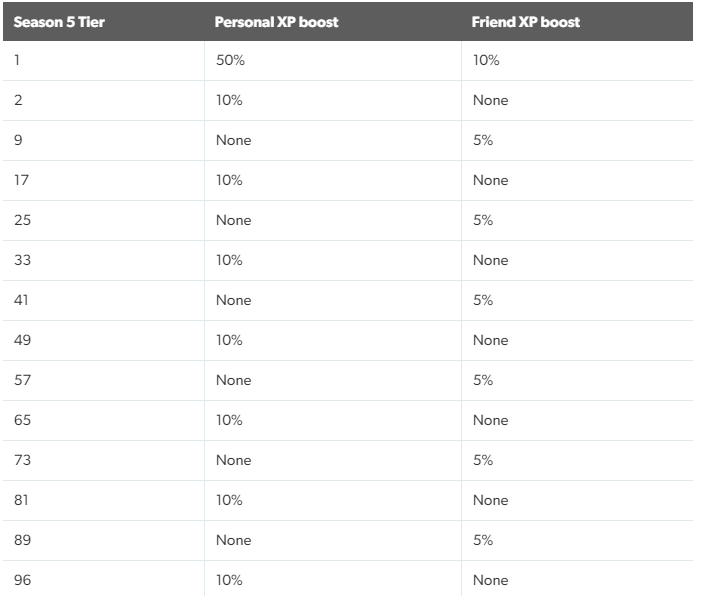 Staying alive as long as you can in every match is probably the best way of getting XP. The cap a player can earn in a solo match for surviving is 238 XP, which is nearly half of what they get for a standard daily challenge. Staying alive in a match for 14 minutes while getting some kills will boost that XP even more. But for the sake of XP, it's better to play safe and wait until you get to that time mark.
You can get XP by completing the Daily Challenges. Every single day, you're given a new challenge, and you can have up to a maximum of three at any one time. Completing each one rewards you with a hefty amount of XP each time, along with five or 10 Battle Stars. Even if you can't complete the challenge that day, make sure you at least log on to collect it or check out which ones you've been dealt that day.
Fact of the matter is, there's only one surefire way to level up as quickly as possible and that's to play a lot. There is another way to help you win the game that is you can equip yourself with best Fortnite Items, including powerful weapons, materials and traps. If you want to find out the best place to buy cheap Fortinte Items, then you come to the right place. We ingamemall.com is your best choice!
---
The Division 2's 8-player raid Operation Dark Hours: the Winner will be immortalized in a Portrait Inside of the White House Base
---