World of Warcraft Patch 8.2: Everything You Need To Know About The New Patch, Now Live
Date: 2019-07-02 13:17:05
---
Battle for Azeroth Patch 8.2 Rise of Azshara has been released on both the US and European earlier this week and Blizzard has already rolled out a new patch that includes nummers changes and fixes has been deployed that offers changes to characters, classes, items, PvP, quests and much more.
We've included the list of changes and fixes down below:
Flying is coming to all Battle for Azeroth outdoor zones
Flying will be enabled in the two new zones in patch 8.2 — as soon as we unlock it.
Mounts are getting some upgrades with a new system
The new Mount Equipment system will allow players to "socket" a piece of equipment that will add an effect to all of that character's mounts. And Druid mount forms will be unaffected by the system, as will Death Knights and Shamans — they'll be able to use their water walking abilities in conjunction with Mount Equipment.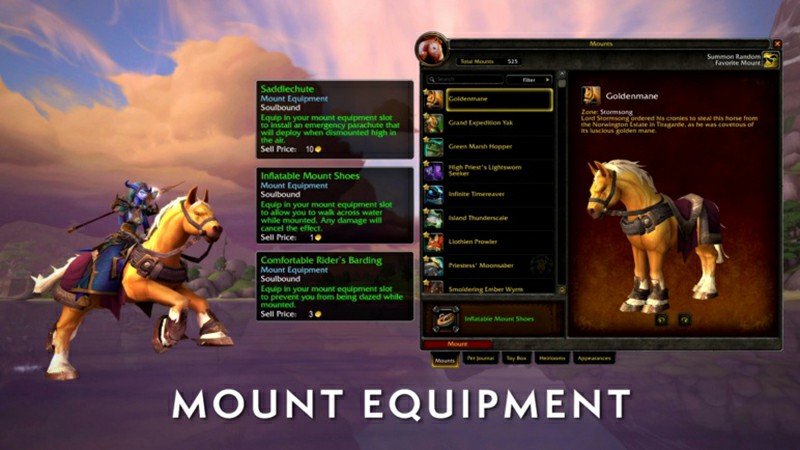 Two new areas
The rise of Azshara will take us into two entirely new areas. Queen Azshara finally took her hand and lured us to the middle of the sea, where we entered her home, Nazjatar.
Nazjatar will feature an evolving zone with a choice of activities, similar to the Timeless Isle. It will have five subzones with rare spawns and mini-events to make things interesting.
Mechagon also follows a similar model to the Timeless Isle. When we get there, we help the Rustbolt Resistance rise up against King Mechagon to stop his plan to eradicate life. This area is full of exploration and repair. We want to explore this area and discover new and interesting things.

A new raid and a new dungeon
Battle of Azeroth Season 3 will begin with patch 8.2, replacing the previous PVP, Mythic+ and raid achievements.
Nazatar's story culminates with Queen Azshara being attacked in Azshara's eternal palace. There are 8 bosses in total, one of which is completely underwater. This is the unlock schedule:
July 9: Normal and Heroic Difficulties
July 16: Mythic and Raid Finder Wing 1 (Abyssal Commander Sivara, Blackwater Behemoth, Radiance of Azshara)
July 30: Raid Finder Wing 2 (Lady Ashvane, Orgozoa, The Queen's Court)
August 13: Raid Finder Wing 3 (Za'qul, Queen Azshara)
In Mechagon, we confront King Mechagon to prevent him from turning everyone into robots. It will originally launch as a Mythic-only mega-dungeon, similar to Karazhan, with eight bosses. In a future patch 8.3, the dungeon will be split into two Heroic and Mythic+ dungeons.
Azerite is getting a revamp
All Azerite Armor traits on gear will be automatically unlocked — no more leveling up to unlock traits on new gear.
New transmog and Heritage Armor
More lore and story progression
Patch 8.2: Everything you need to know about the new patch, now live
---
---