Ubisoft's For Honor is free on PC though Uplay Now
Date: 2019-08-23 09:27:49
---
Ubisoft's For Honor is free on PC though Uplay Now, you can download it before August 29th, and then the gameplay is yours.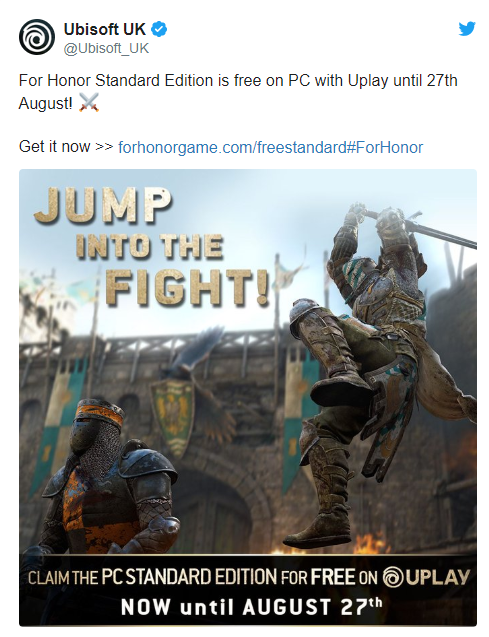 You might actually have an extra couple days, depending on your region. While Ubisoft's UK account says the offer is valid until August 27, here in the US the page says it's running until 4 a.m. ET on August 29. Either way, you've got a solid week in which to claim a free copy of the standard edition of For Honor, which is a fun game about knights, samurai, and vikings hitting each other with a wide variety of pointy objects.
What the currently free version of the game does not include is basically any additional characters or the PVE Arcade Mode. The larger, more expansive versions of the game are on sale, but most folks will likely be happy to plug away at the game with the 12 base heroes and earn cosmetics and unlock further characters from there. If you're a fan of the original 12, you'll likely like the rest of the game, and if it doesn't stick with you, well, there's nothing lost considering it's free for now.
For those keeping tabs at home, this isn't the first time that For Honor has been given away for free. The game was previously offered as a free download through the Epic Games Store just earlier this month, and was offered free of cost to PS Plus subscribers in February of this year.
For Honor is now in the third season of its third year. Since For Honor was also available free from the Epic Games Store in early August, if you missed it, or are still ethically opposed to it, now is your chance to pick it up. PlayStation Plus also gave out For Honor at the beginning of the year. Anyway, there's not much excuse not to have it in your library by now.
If you have not own this game, but you are still interested in. Rush to download this game at uplay.
---
Runescape: Purchase Key Packages And Get Free Smouldering Mapping Lamps Between August 29th And September 2nd
---