Assassin's Doctrine Odyssey Dlc "The Fate Of Atlantis" Episode 1 For Free From August 27th Until September 2nd
Date: 2019-08-27 09:54:33
---
Shortly before, Ubisoft announced that Assassin's Creed Odyssey's the first episode of The Fate of Atlantis DLC, Fields of Elysium, for FREE until September 1st. Players who own The game will be able to receive it for free during open hours on PS4, Xbox One, PC Steam/Uplay and other platforms.
In The second DLC "The Fate of Atlantis", players will venture into The legendary mysteries of Greek mythology to explore The true power of heroes and expose The secrets of The first civilization.
According to the announcement of the activity, the activity will end from August 26 to September 1, and the free opening hours of each platform are different. Please check the schedule below for details.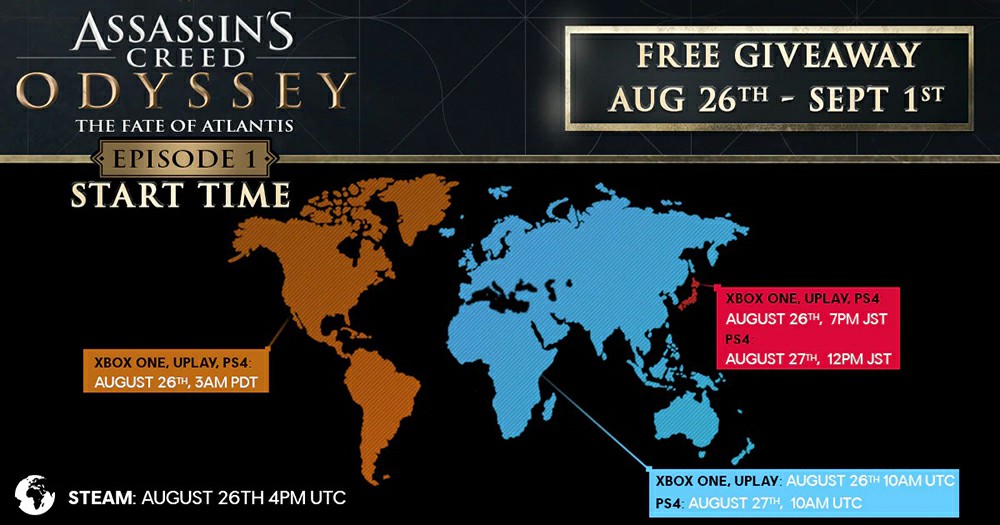 In addition, the Season Pass is 50% off from August 27th until September 2nd. The Season Pass includes the full Legacy of the First Blade and Fate of Atlantis DLCs plus Assassin's Creed® III Remastered!
---
---