Rainbow Six Siege Operation Ember Rise lands on September 11
Date: 2019-09-11 14:54:39
---
Rainbow Six Siege's newest season Operation Ember Rise has been praised as a return to form for the game. Operation Ember Rise will go live Sept. 11 at 10am CT on PC, 9am CT on Xbox, and 8am CT on PS4. Ubisoft confirmed the release date and time in a tweet earlier today. Like previous content drops it's completely free and will be rolling out on all platforms including PlayStation 4, Xbox One, and PC.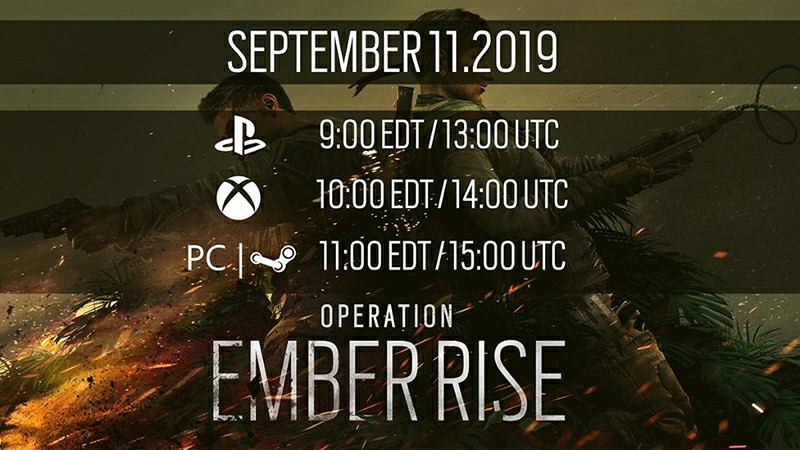 Deployment Schedule:
PS4 : 9:00 EDT / 13:00 UTC
XB1 : 10:00 EDT / 14:00 UTC
PC/Steam : 11:00 EDT / 15:00 UTC
Year 4 Season 3 introduces two new operators, each with their own unique gadget. Peruvian attacker Amaru can use her Garra hook to grapple through windows and hatches while her Mexican CTU partner, Goyo, can place Volcan shields. They act like your regular deployable defences though have built in explosives which can be shot out.
The Ember Rise release date will bring us more than new operators and a Kanal map rework. Ubisoft Montreal has reworked the Kanal map from the base version of Siege, transforming it from a disjointed maze into something way more fluid and viable in competitive play. This new content can be accessed by anyone who owns a copy of the game.
It'll hit on September 11, as this story goes live – and the devs have provided the usual official breakdown of the exact release times you'll need to wait for before playing.
---
---