Final Fantasy XIV Patch 5.1─Vows of Virtue, Deeds of Cruelty Site Update
Date: 2019-10-21 08:54:07
---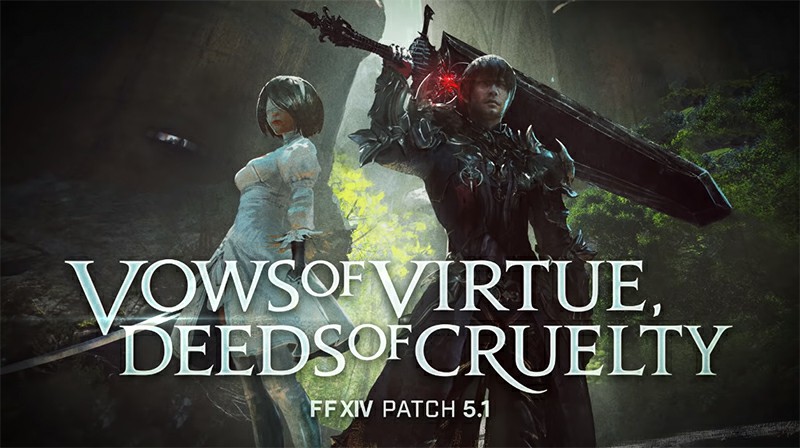 Final Fantasy XIV's 5.1 update titled "Vows of Virtue, Deeds of Cruelty" was officially announced today and with it comes a whole host of new content. The update is set to launch later this month on October 29 bringing along with new dungeons, opponents, overhauls to some of the game systems and the chance to revisit some old places.
The special site has been updated with the Patch 5.1 trailer, as well as a sneak peek at Pixie tribe quests, the next custom delivery client─Kai-Shirr, a new attraction at the Gold Saucer, and changes to crafters and gatherers.
Check out the official trailer for patch 5.1 below:
In Vows of Virtue, Deeds of Cruelty players will experience the following:
YoRHa: Dark Apocalypse The Copied Factory alliance dungeon raid – This bit is a crossover event with Nier: Automata as 2B arrives in Norvrandt.
The Grand Cosmos dungeon – The Grand Cosmos is an elven palace located on the shore of the Source. It has been abandoned by the elves but is home to a mage that has made the palace their base and protects it with familiars to stop outsiders getting in.
Beast Tribe quests will be added with players able to venture into Lyhe Mheg, aka the Garden of Dreams.
Custom deliveries can be undertaken
The swordsman Yojimbo arrives in the Golden Saucer where players can challenge him to battle, though that will not be an easy feat to overcome.
The crafting system is getting an overhaul including the removal of some actions and a reconfiguration of the UI. A quick gathering option is also being added.
New Game+ is being added as well allowing players to relive the main quests of Heavensward, Stormblood, and Shadowbringers with current characters and level.
Fellowships are another addition and could be thought of as guilds or clans, in which up to 1000 players can join. Players have the option of joining 10 fellowships.
---
---