Dota 2 the International 2019 prize pool surpasses Fortnite World Cup
Date: 2019-07-24 01:14:32
---
The International DOTA2 Championships (shorten in TI) once again prove that they are still the most profitable league in the world. TI's prize pool this year has exceeded $30 million.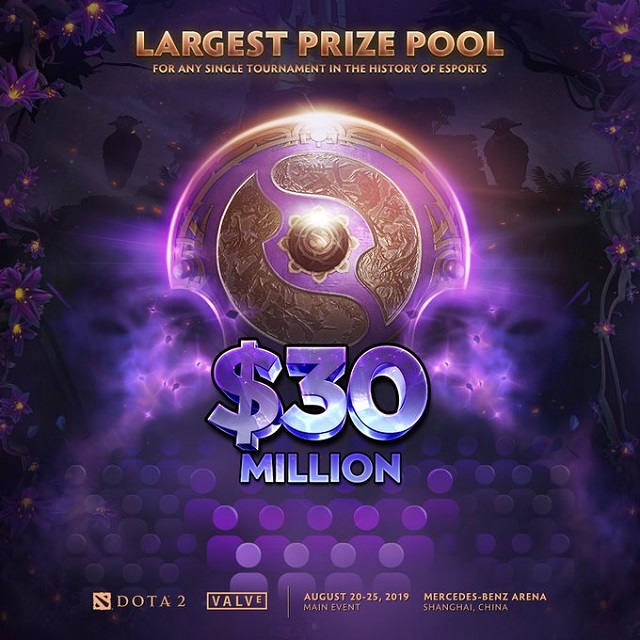 The 2019 Dota 2 International, the largest tourney for players of Valve's MOBA, currently has a prize pool of $30,200,471 (at time of writing — it's still going up). That makes it the biggest ever offered for a single esports event, though that's not really a surprise when you consider how the money is raised. For those who don't know, the base prize money is augmented by a portion of battle pass sales, meaning it increases every time someone buys a Dota 2 battle pass. So it could potentially be even more money by the time the tournament happens in August.
For true fans, buying a Battle Pass is a matter of personal honor. Available for prices ranging between $9.99 and $44.99, the battle pass allows you to explore new consumables, visual and gameplay features, new levels and scenarios. Plus, the Battle Pass guarantees you to gain entry to watch The International directly through the game, circumnavigating any observers and streamers. The Battle pass used to be just a ticket offering access to the event, but these days it is a much-anticipated addition to the game, offering a range of great features.
This new milestone is well beyond the $25,532,177 of The International 2018. It also ensures that TI9 will have more prize money than the next closest event, arguably Fortnite World Cup with a $30 million prize split across solo and duo competitions from July 26-28. Fortnite's prize pool was put up entirely by Epic Games, while Valve has only contributed $1,600,000 to TI9's pot.
With the "Majesty of the Colossus" prestige item for Tiny available at level 255 and the "Acolyte of the Lost Arts" hero persona unlocked at level 305 of the Battle Pass, it is certain that the TI9 prize pool will continue to balloon to massive proportions. With 28 days of crowdfunding left and the $30.2M tally already 29% of last year's prize pool total at this point (according to the Dota 2 Prize Pool Tracker), the final amount could still be significantly higher.
TI9 will be held in Shanghai on August 20, 2019.
---
---