Anthem's chief producer leaves after eight years at BioWare
Date: 2019-08-20 01:18:49
---
Ben Irving announced that he will move from his position at BioWare to another game company. Irving has been with BioWare for more than eight years and served as the lead producer for Star Wars: The Old Republic before entering Anthem in April 2017.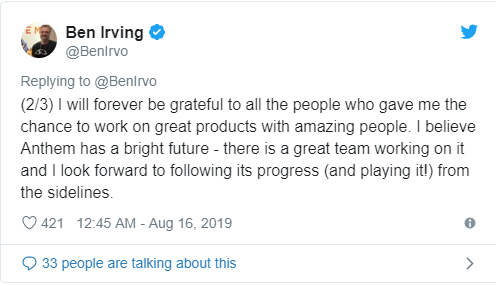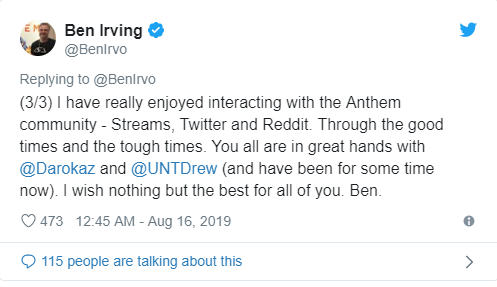 Irving's three-tweet announcement about his move away from BioWare can be seen below as he said he'd be forever grateful for the opportunities he was given and that he'd "really enjoyed" working with the Anthem community. He acknowledged Anthem's "good times and the tough times" and said the community is in "good hands.'
"After working for eight years at BioWare, I decided to move on and accept the exciting opportunity of another game company," Owen sent a tweet. "Since I played Baldur's Gate for the first time many years ago, BioWare is the place where I always want to work. I will always be grateful to anyone who has given me the opportunity to create quality products with great people."
Owen worked at BioWare Austin, which was founded in the mid-2000s and worked in the Old Republic. Anthem was originally developed at Edmonton's "main" BioWare studio and moved to Austin after the game was released, so the studio could use its experience in running online games to process Anthem's real-time service components.
The departure of Anthem's chief producer will certainly attract some attention because the game was unstable in the last few months, but Owen said: "I believe Anthem has a bright future - there is a great team working hard, I am looking forward to it Progress (and it comes from bystanders.)
The future development remains to be seen. Anthem's Cataclysm update ended in disappointingly earlier this month, but BioWare remained silent on what happened later. No matter what, there must be a new leader.
---
---