Madden 20 Rivals Streamers Event Coming Next Week (September 6)
Date: 2019-08-30 11:20:38
---
The annual tournament will determine the first major champion of the Madden NFL 20 competitive season. In addition to that, EA has revealed several upcoming events including a special Twitch streamers tournament and the reveal of new MUT Legends. Madden 20 Rivals Streamers Event begins on Friday, September 6.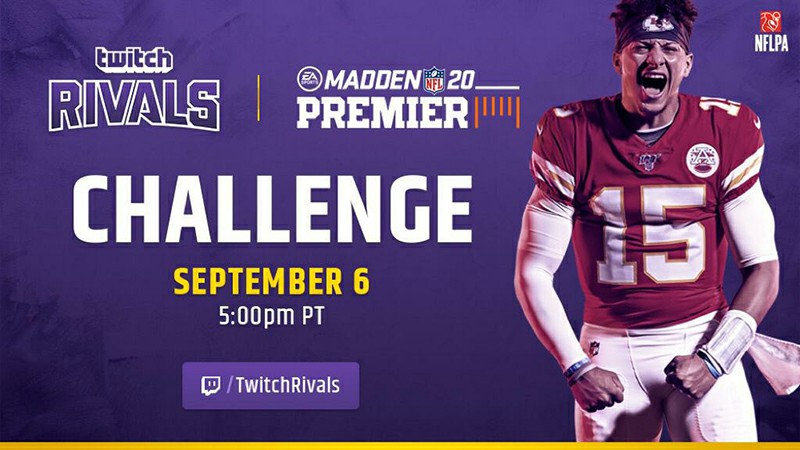 Rivals streamers event coming next week
The Twitch Esports Twitter recently announced the upcoming Twitch Rivals EA Madden NFL Challenge. In this event, popular Twitch streamers will go head-to-head in a fun-filled tournament featuring the Madden 20 game. Twitch Rivals: Madden 20 Challenge is an online competition, featuring 24 invited streamers from North America. Participants will compete in teams of 3 and attempt to set a team high score. It officially begins on Friday, September 6, with the event shown on Twitch Rivals channel. It starts at 5 p.m. PDT or 9 p.m. Eastern Time.
Schedule
September 6th, 2019
4:00PM - Check in
5:00PM - Broadcast begins
5:15PM - Phase 1 Starts
8:15PM - Phase 1 Ends
8:30PM - Phase 2 Begins
9:00PM - Broadcast Ends
Format
The Twitch Rivals event will break down as a leaderboard challenge. Teams' performance in online matchmaking will be tracked as they play against opponents in matchmaking.
The competition will be split into two (2) phases. Phase 1 will rank teams based on their total score. Phase 2 will be the final faceoff between the top two (2) teams from Phase 1.
A main hub broadcast will track all participants' scores and create a narrative based on the live score leaderboard.
The Madden 20 Classic tournament will be the first major competitive event of the new season. This year's edition is sponsored by Starbucks Nitro Cold Brew and begins on Friday, August 30 in Arlington, Texas. Those watching live will be able to see the first signs of new players for Madden 20 Legends. Those player items drop in the game for Ultimate Team on Saturday. Through the exclusive EA Madden NFL Twitch channel, players can watch daily shows. That includes' Good Morning Madden, 'where viewers who watch live will be rewarded with a Twitch drop pack in the Madden 20 Ultimate Team game. Madden's other active channels include the MUTHEAD channel, which now competes with the upcoming Madden 20 challenge event. You can also tune into the channels of anyone participating in an event to see their unique view of the action along with their community.
---
---